Volunteer With Paws For Life
Have you always wanted to help animals but weren't sure where to start? Here's your chance! Volunteer for PFL, and you'll become a part of a wonderful network of people who love animals just like you. Helping animals can take many forms – we'll help you find the right role for you!
Do you enjoy the "hands on" experience with animals? If so, you might want to try fostering a dog – help out at adoption events – give a pet a ride to the vet, an adoption event, or to a new home!
Is "at home" work easier to fit into your schedule? No problem – we always need help with administrative tasks such as phone calls, database entries, and other tasks.
There's nothing more rewarding than knowing you've played a part in saving a homeless pet's life. Every volunteer role is important. It takes many pieces of the puzzle to form the complete picture. By working together as a team, we're able to accomplish far more than any one person.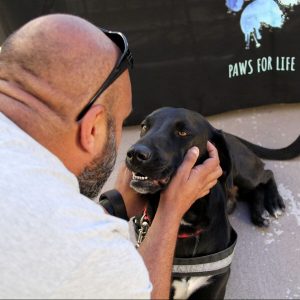 To help us learn more about your areas of interest, please complete the application form below! Thank you!