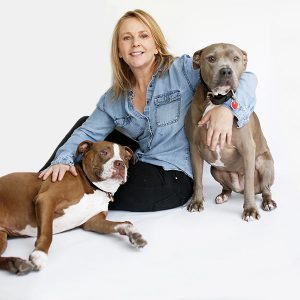 Alex Tonner adopted a baby pit bull in 2009 which she named "Ziggy" because his tail zig-zagged; it was bent out of shape as the result of abuse and neglect he endured in a backyard before being rescued. Ziggy's brother was missing part of his nose. As Alex watched Ziggy transform into a loyal and loving family member, she knew she could help other dogs like him find the homes they deserved.
Alex spent many years volunteering for dog rescues, and along the way, she learned that the dogs could help people just as much as people could help dogs. In 2014, she helped implement the "Paws For Life" prison program at the California State Prison-Los Angeles County, in Lancaster, CA. The program was originally designed to be a simple dog-training program for incarcerated men–the first of its kind at a maximum-security prison.
Alex recognized how the program transformed the lives of both the incarcerated dog-trainers, the dogs and the prison culture. With the goal of enhancing program objectives, an increased training curriculum, and finding ways to have a greater impact in the community, Alex founded Paws For Life K9 Rescue.
Alex's vision, creativity and passion have been at the forefront of creating California's largest in-prison dog training program. With the expansion of programs that train service dogs for U.S. Military Veteran's diagnosed with PTSD, the program received state-wide recognition and continues to flourish to assist those in need. This expansion includes 7 programs running at 3 California State Prisons with more than 180 trainers working on a daily basis.
Alex is continually motivated to do this work as she sees the profound affect it has on the lives of others. With more than 20 program participants receiving commutations through the Governor's office, and countless more receiving opportunities for release, she continues to find avenues to assist those with post-incarceration employment and support
Under Alex's leadership, Paws For Life K9 Rescue continues to expand its services to first responders and victims of violent crimes in conjunction with getting animals out of California's overpopulated shelter system.
Through Paws For Life K9 Rescue, Alex hopes to change the ways animals are treated throughout the world. Ziggy has no idea, but many dogs and humans have better lives thanks to him and the love he inspired in her.