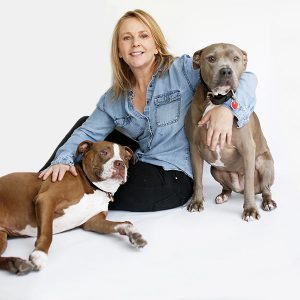 Alex Tonner adopted a baby pit bull in 2009. She named him "Ziggy" because his tail zig-zagged; it was bent out of shape as the result of the abuse and neglect he had endured in a backyard before being rescued. Ziggy's brother was missing part of his nose. As Alex watched Ziggy transform into a loyal and loving family member, she knew she could help other dogs like him find the homes they deserved.
Alex spent many years volunteering for dog rescues, and along the way, she learned that the dogs could help people just as much as the people could help the dogs. She helped implement the "Paws For Life" prison program in 2014 at the California State Prison in Lancaster. The program was originally designed to be a simple dog-training program for incarcerated men in a federal penitentiary–the first of its kind at a maximum-security prison. Tonner and other volunteers would drive groups of dogs from overpopulated shelters in Los Angeles to the prison to get trained for 10 weeks at a time. The program transformed the lives of both the incarcerated dog-trainers and the dogs: the men prepared the dogs for adoption, and the dogs made life inside the prison a bit better. As the program's reputation grew, "Paws for Life" became its own non-profit and its trainers became certified to train shelter dogs to serve as service animals for war veterans suffering from PTSD. Among her many accomplishments, Alex prides herself on the fact that so many men who have been through the Paws for Life prison program now have been released on account of their work with the shelter dogs. Paws For Life continues to grow apace, with six programs running in three different prisons.
Through Paws For Life, has also coordinated large animal rescue efforts following national disasters such as Hurricane Harvey. Through the organization, she hopes to change the ways animals are treated throughout the world. Ziggy has no idea, but many dogs and humans have better lives thanks to him and the love he inspired in Alex.