Carmen Cisneros Biography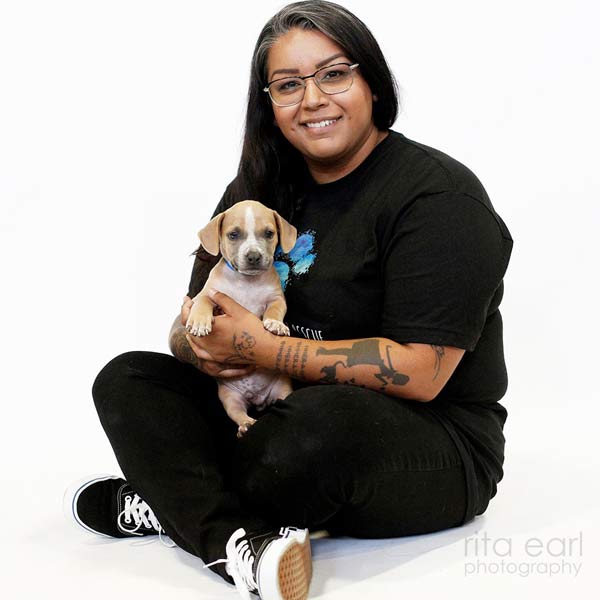 Carmen grew up surrounded by dogs all her life. Her first love was a Pitbull her family rescued from the South LA Animal shelter, named Norteña (meaning North). She was an all-white, deaf, Pitbull mix. Norteña was Carmen's true love, and sparked her interest to volunteer at shelters. Carmen worked for over 11 years at The Kennel Club LAX, a boarding facility for pets where she assisted with playgroups, managed day-to-day operations, and customer/airline services.
But Carmen felt something was missing, so she joined Best Friends Animal Society as a pet caregiver. It was here where she gained experience in all facets of animal care. Within a year she accepted a position as a Kitten Intervention Specialist working at the South LA Animal Shelter for the Safe at Home Project. This project focused heavily on the care and survival of kittens 7 weeks and under. Carmen continued to gain experience in animal welfare assisting with customer service, medical teams, feeding, and showcasing dogs to the public and rescues.
With the knowledge from years of practical experience, Carmen was hired as a Foster Coordinator overseeing the placement of dogs, cats, puppies, and kittens with an emphasis on placing animals with high-risk medical needs.
When Carmen started volunteering for Paws for Life K9 Rescue, she immediately recognized what a special program it was and wanted to be more involved. Carmen's brother was incarcerated for over 18 years and knew the effect that it had on him and her family as well. She also knew the importance of rehabilitation, and because of her own experiences, knew the impact dogs could have in that area.
As the Program Manager, Carmen plays a vital role in overseeing day to day operations at California's largest prison dog program located at the California State Prison-Los Angeles County.
Carmen's passion for helping animals and people has always been at the forefront of her life. And now, she is living this passion everyday working at Paws for Life K9 Rescue.